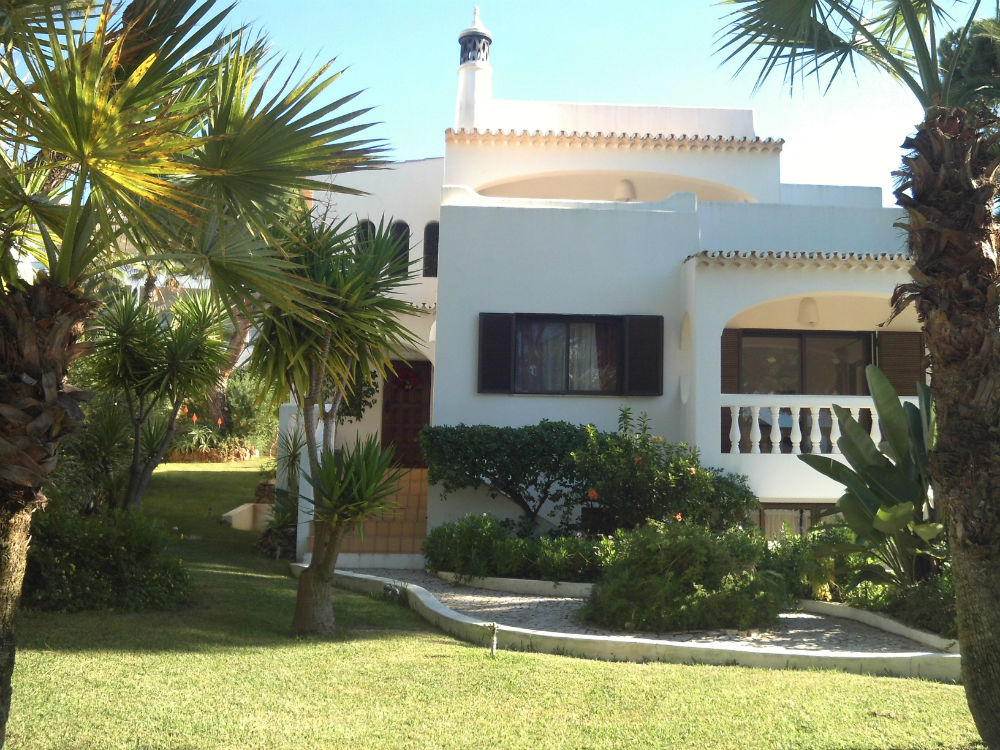 Villa Neves is a secluded villa, built on urbanisation Vale do Garrão, on 600 meters from the sandy beach. The villa has a private pool, so it is a holiday residence with a high standard. It offers a perfect stay for a party from 6 up to 8 persons. The renting price of the villa is based on occupation by 8 persons. If the party seize is up to 6 persons, the renting price is the same as villa Alegria. In that case the door to the basement will be locked.
Second floor. Large – parents – sleeping room with king-size bed and an en-suite bathroom with bath and an extra shower. Next to this room there is an extra sitting room.
 First floor.

Two twin bedrooms, both with en-suite bathroom. The living room is situated on the street side of the villa. Behind the living there is a kitchen with dining area and a door leading to the barbecue area. Lounge with fireplace and doors to covered terraces with

bougainvillea.
Ground floor.

Here you will find bedroom number 4 with an en-suite bathroom.
Further contents: ► private pool ► washing machine ► dishwasher ► coffee machine ► water cooker ► toaster ► television with satellite ► audio installation with cd-player ► air-conditioning (between the end of April until the end of October extra charges € 150,- per week) ► Access to Internet with Router for € 15,- per week. (use your own Laptop)
Further information:
Google Earth coordinates: 37°02'41.00″ North latitude and -8°02'29.00″ West longitude

Sandy beach 700 meters (just a stroll of 7 minutes)

Mini-market and restaurant on 500 metres

Tennis courts on 200 metres

Communal swimming pool on 100 and on 300 metres

Nearest city Almancil on 4 kilometres

This villa is only 250 metres away from Villa Alegria and villa Kitas
Quotation of prices: between the end of April until the end of October the prices listed are, apart from the air-conditioning, all in. This is including cleaning 3 times a week (between Monday and Friday, excluding bank-holidays) and final cleaning Available in the villa: 6 packages of sheets (renewed once a week when you have a longer stay than 1 week) and towels (renewed twice a week)
Beach towels need to be taken from home
Quotation of prices in the winter and spring season: please check at the availability page
Villa Kitas:
Owner: Mr. Arturo das Neves
Contact: Mr. O.A. Veenstra
Telephone: +31 6 5150 7444
E-mail (click here)